If there was a way to hit the reset button and wake up to a blood stained diamond ring on her finger but with Sophia laying beside her… Memory erased. Would Carol go back?
The dead saved Carol Peletier from a lifeless fate of hushed agony and blistering shame filled coverups. Had walkers not broached a life sworn to secrecy and embarrassment under chapel vows, there would be no exit door. No Andrea or Shane to bring the realities of Carol's home life into a public spotlight. She would have never met Daryl Dixon, Ezekiel, or even Rick Grimes. In a way, the post-apocalypse world of The Walking Dead highly benefited Carol's self esteem, reshaped its stony foundations from rock bottom. The identity that was on the verge of non-existence, flourished under the rule of the new king of the food chain.
If walkers never ambushed Carol's life, the silver-haired heroine would likely still be at Ed's beck and call… Toiling under the proverbial weight of his foot, praying for mercy silently in the moonlight. Yet, the dead took Carol's only biological daughter Sophia in the process of a journey to self-realization and self-worth.
The ultimate price, her own flesh and blood. Potentially, the only biological child she'll ever bare. The Natural Aristocrat recently explored how A Mother's Grief is Forever. There won't be a night where Carol ever loses the memory of motherhood. It begs the question, if Carol could go back as she was back then with Ed to bring Sophia back… Would she say accept and sacrifice her own life once again?
Many on the Twitter-verse have speculated upon what Carol is thinking about when she wakes up in the Season 10 Episode 6 preview below. If she's wishing Daryl was laying beside her. Perhaps, it's not a romantic void at all Carol's feeling but rather loss. Maybe she's glancing at the spot Sophia once took every morning when she called her mom.
See what I mean.. https://t.co/HD92b1FL8r pic.twitter.com/5YiKTVUYmu

— 👉JENNNNN👈 #caryl (@ZedWordJen) November 4, 2019
Do you feel Carol Peletier is better off today than she'd been had The Walking Dead never exposed the sanctity of her destructive, private home life? Sound off in the comment form below.
Julius Caesar starring David Morrissey to return on-screen in March
The UK's New Zealand Society will present National Theatre Live's 'Julius Caesar' starring David Morrissey on Tuesday, March 17th 2020 over at National Theatre Studio in London.
'The Governor' David Morrissey's portrayal of Mark Antony in National Theatre Live's rendition of classic Shakespeare play 'Julius Caesar' will be revived on-screen for one night only this coming March. UK based New Zealand Society's Film and Theatre Club will present 'Julius Caesar' (TV Movie Edition) on Tuesday, March 17 2020 at 5:45 p.m. at London's National Theatre Studio!
The Telegraph called David Morrissey's performance "electrifying" back on January 30, 2018, giving the show 4 out of 5 stars. Tickets will be free for New Zealand Society members and just £7.50 for non-members / General Admission. National Theatre Studio is located at 83-101 The Cut Lambeth London SE1 8LL.
Alongside David Morrissey in National Theatre Live's 'Julius Caesar' is Ben Whishaw [The Danish Girl] as Brutus, Michelle Fairley [Game of Thrones] as Cassius, and David Calder [The Lost City of Z] as Julius Caesar himself. Directed by Nicholas Hytner, the productions runs at 2 hours and 15 minutes with no intervals.
National Theatre Live's 'Julius Caesar' Synopsis:
Caesar returns in triumph to Rome and the people pour out of their homes to celebrate. Alarmed by the autocrat's popularity, the educated élite conspire to bring him down.

After his assassination, civil war erupts on the streets of the capital. Nicholas Hytner's production will thrust the audience into the street party that greets Caesar's return, the congress that witnesses his murder, the rally that assembles for his funeral and the chaos that explodes in its wake.
Learn more about the production and its extensive critical acclaim over at National Theatre Live's official Julius Caesar page. The TV Movie of the production to be presented by the UK's New Zealand Society was originally released on March 22, 2018.
About the UK's New Zealand Society: "NZ Society UK provides social opportunities for Kiwis to meet up & celebrate both our heritage and our adopted home."
David Morrissey's recent Acting Craftsmanship:
David Morrissey has been busy portraying Aulus in TV series Britannia recently, and will soon play a featured role as Walter Blackett in upcoming series The Singapore Grip.
Best remembered as one of Rick Grimes' greatest all-time rivals on The Walking Dead, David Morrissey's acting has always been on a whole other level. Dynamite on-screen and on-stage, his presence commands your attention. Thus, it's no surprise that an 'actor's actor' like Morrissey would return to his roots after The Walking Dead and continue performing in Shakespeare's lineage of work. Not to mention a strong run on-stage performing in Martin McDonagh's Hangmen!
Check out more Walking Dead related cast news over at The Walking Dead category section on The Natural Aristocrat! Pollyanna McIntosh (Jadis/Anne) and several of her Walking Dead cast mates have recently been announced for NJ's annual East Coast Comic Con in May.
Pollyanna McIntosh to be featured guest at East Coast Comic Con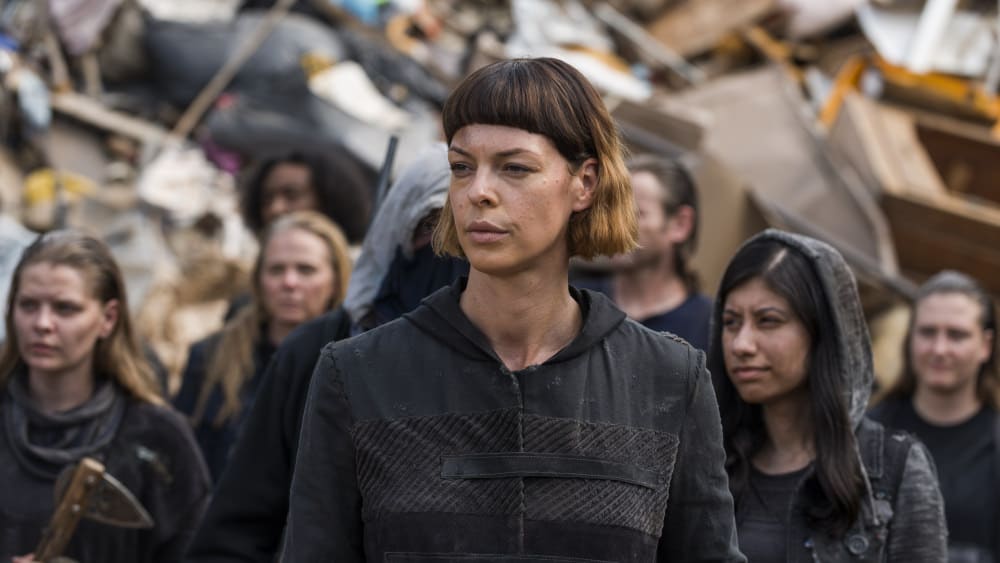 Pollyanna McIntosh will join Walking Dead co-stars Khary Payton, Cooper Andrews, Ross Marquand, Matt Lintz, Michael Cudlitz, and Chandler Riggs at NJ's East Coast Comic Con.
Walking Dead, Darlin' and Lodge 49 star Pollyanna McIntosh is flying in sans helicopter over to New Jersey this May for East Coast Comic Con! Jadis/Anne will appear all three days of the convention, Friday, May 15, Saturday, May 16, and Sunday, May 17 at the Meadowlands Exposition Center.
McIntosh most recently portrayed Clara in Lodge 49's second season on AMC and reprised the role of The Woman in sequel Darlin' while simultaneously directing the picture. Walking Dead fans are patiently awaiting what role Anne will play in the upcoming Rick Grimes standalone film. Anne was responsible for Rick Grimes' emergency rescue via helicopter changing the course narratively for the entire parent series.
Looking forward to New Jersey in May for @EastCoastConNJ with #TheWalkingDead family @smugorange & @kharypayton ☠️♥️ pic.twitter.com/P4ukhTL9vk

— Pollyanna McIntosh (@PollyAMcIntosh) December 31, 2019
Photo-ops sessions are not for sale quite yet as of 1/1/20 for McIntosh but will be available at this link. Current TWD talents listed for photo-ops are Khary Payton (all 3 days), Ross Marquand (all 3 days), Cooper Andrews (all 3 days), Chandler Riggs (all 3 days), and Michael Cudlitz (all 3 days). Combo photos with both Khary Payton and Cooper Andrews is listed as a purchasable option as well.
Tickets to East Coast Comic Con itself is purchasable at this link. Entry to the convention is not included with the purchase of a photo-op session. The Meadowlands Exposition Center is located in 355 Plaza Dr, Secaucus, NJ 07094. Hours for the convention are 2 p.m. to 8 p.m. on Friday, May 15 and 10 a.m. to 6 p.m. on both Saturday, May 16 and Sunday, May 17.
Pollyanna McIntosh's upcoming film projects
Pollyanna McIntosh and Serinda Swan in Revenge Ride (2020) – Poster Credit: Vangelis Films
Pollyanna McIntosh stars in Melanie Aitkenhead directed film Revenge Ride as character Trigga. The film's plot reads as 'a teenage female joining an all-female gang and getting revenge on a group of American football players.' The movie's status is currently completed and set for release sometime in 2020.
Steven Ogg as Jack McGovern in The Moonshine Gang of Cheyenne , co-starring Pollyanna McIntosh as McKinney – Poster Credit: TheMoonShineGang.com
McIntosh is featured prominently on the poster riding a motorcycle alongside film co-star Serinda Swan (Maggie).
The Scavengers' leader will also be reunited with Walking Dead co-star (and Jadis' ultimate nemesis) Steven Ogg for film The Moonshine Gang of Cheyenne. Pollyanna McIntosh will play the role of McKinney opposite Ogg's Jack McGovern.
On the film's website, TheMoonShineGang.com, the picture's plot reads as "The Moonshine Gang of Cheyenne is a western/horror set in 1879 that tells the story of two men in the wrong place at the wrong time; a Bounty Hunter named Jack McGovern and his nephew Seth who are currently transporting outlaw and Moonshine Gang member Charlie Sanders through the Black Hills of South Dakota." No official release date confirmed as of yet.
More Walking Dead coverage on The Natural Aristocrat
Be sure to check out The Natural Aristocrat's Interview with Pollyanna McIntosh on Darlin', The Woman author Jack Ketchum, The Walking Dead and much more! Darlin' is now available to stream free for all Prime members on Amazon and can be purchased on Blu-ray at Best Buy.
Read more TWD articles on The Natural Aristocrat at The Walking Dead and Fear the Walking Dead category sections. Features include exclusive interviews with TWD/FTWD crossover star Austin Amelio, Jenna Elfman, and Colman Domingo at NYC's Split Screens Festival.
Dante is another good Walking Dead character gone for no great reason
Losing Juan Javier Cardenas (Dante) from The Walking Dead's cast did not enhance the series or provide any kind of spirited epiphany, not even a good Deus Ex Machina. It was just a waste of potential of one of Season's 10's most charismatic bright spots.
This article contains spoilers for The Walking Dead's mid-Season 10 finale.
For as much as The Walking Dead bathes in the term 'delayed gratification' and takes almost a schadenfreude-like approach to stretching plot lines to the brink… They simultaneously eliminate their most intriguing characters like Dante on a whim or lock them away from screen time in narrative jail ala Negan. What purpose did Dante's death serve during TWD Season 10 midseason finale? For Gabriel to revive a relationship side plot with Rosita that most fans realistically forgot about by now?
All it did was snuff out the candle of this season's most charismatic new on-screen addition for two seconds of shock value. What could have been the closest thing to a Merle-like character is in the ground, six feet under, to progress yet another convoluted romance storyline. Let's face it, Ole' Gabey isn't Rosita's first boyfriend and he certainly won't be the last. She's been 'getting over' Abraham for quite a while now. Every other episode, Rosita looks like she's in love with a different member of her reverse harem. Might as well spin a wheel to figure out who's the next sucker.
Lost Future
Juan Javier Cardenas as Dante – The Walking Dead _ Season 10, Episode 7 – Photo Credit: Jace Downs/AMC
Meanwhile, Dante had an endless well of potential as his disposal. From if he really had a son or not, military background, to his Whisperer attraction. Most importantly, actor Juan Javier Cardenas knew how to sell a scene. How to make Dante standout and steal the moment. Him being a doctor added to the question of possible no-choice necessity similar to Pete Anderson. There were so many different directions to take his character to, he could have been more than the traitor who took out Siddiq. One of the few times The Walking Dead should have held back, they go full force. Reminiscent of the loss of Jessie Anderson [Alexandra Breckenridge] in Season 6 of the show.
This goes back to the decision to take out The Governor. It's okay not to fully eliminate a character through death and just have them escape for a while, instead of losing another quality actor. Maggie Greene received such a temporary exit when Lauren Cohan moved to another project. Recognize your roster, so you're not left with storylines your audience isn't that immersed in at the expense of ones they are into.
Read more of The Natural Aristocrat's Walking Dead coverage in The Walking Dead category section!