BLUE ENCOUNT Interview: Live Tour, New York City, AnimeNEXT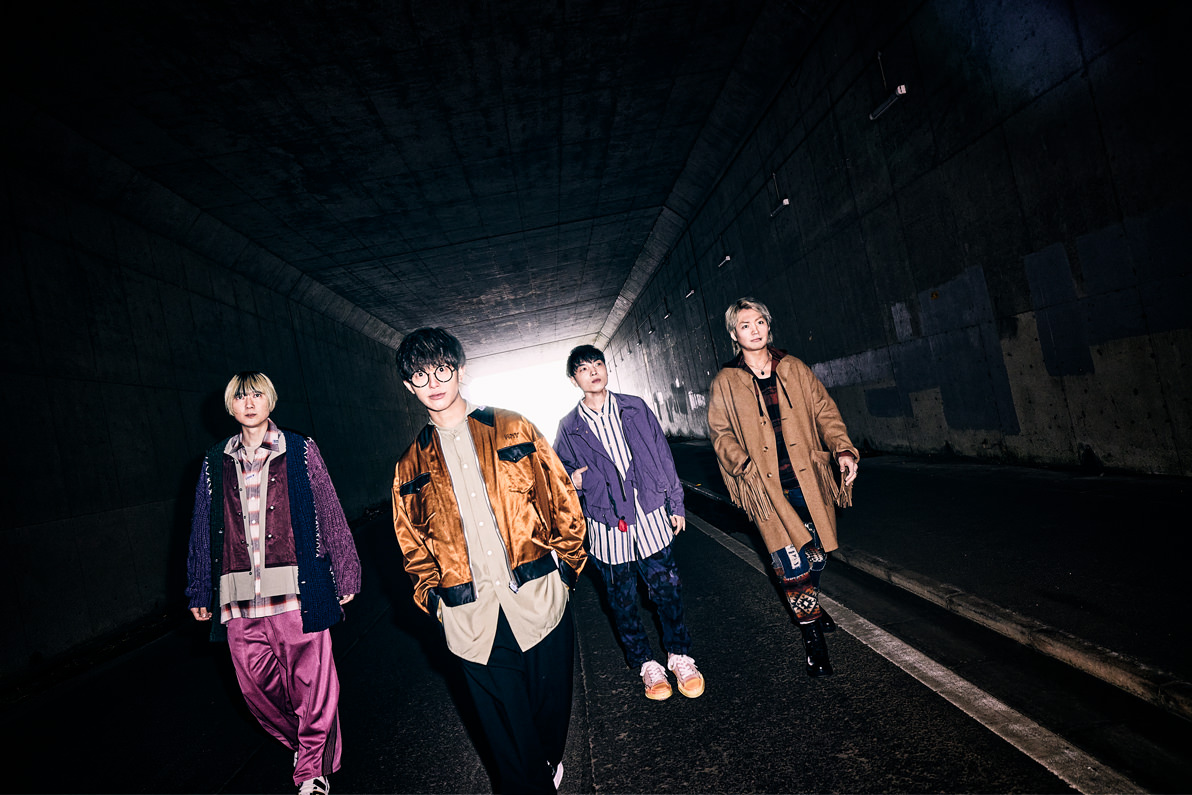 Interview: BLUE ENCOUNT spoke to The Natural Aristocrat® about the electric energy of the American crowd at their 'AnimeNEXT' live performance in Edison, New Jersey. The Japanese rock band also discussed the My Hero Academia opening theme "Polaris" lyrics, favorite musicians growing up, first New York City impressions, and much more.
THE NATURAL ARISTOCRAT (NIR REGEV): Do you feel there's major differences between performing live for an American audience compared to a Japanese one?
BLUE ENCOUNT – SHUNICHI TANABE: We performed for the first time in America at the 'AnimeNEXT' convention and the energy is like one and a half times what it's like in Japan, really!
The people over here like to express their energy from their toes on up to their whole entire body. It was a lot of energy and very exciting for us!
THE NATURAL ARISTOCRAT: What were your first impressions of NYC?
BLUE ENCOUNT – SHUNICHI TANABE: We've been here for five days this time and have a lot of interest in spending more time here! We think New York is a really cool city.
The only thing that I feel is really holding me back right now… Is getting used to the food in NYC!
There's just so much food, the portions are so big! (laughs)
THE NATURAL ARISTOCRAT: Last year Shunichi told Billboard that some fans who went to live shows pre-COVID "haven't returned". Is that still true in 2023?
BLUE ENCOUNT – SHUNICHI TANABE: We recently did a headliner show at the 'Budokan' in Tokyo (like the Madison Square Garden of Tokyo) and it was after the ban on shouting during live shows was lifted…
For a long time throughout COVID, the fans had to be silent during the shows. And with that restriction lifted, we feel like the energy's kind of started to return to kind of what it was like pre-COVID.
THE NATURAL ARISTOCRAT: When it comes to vocals, what song is most challenging to sing and perform live?
BLUE ENCOUNT – SHUNICHI TANABE: As a vocalist, what I wrote for Gundam "Survivor, the range on the melody is really, really wide. It goes up and down a lot.
Also, the words are really crammed into a very tight melody. So I'll forget the words quite often while singing it.
THE NATURAL ARISTOCRAT: How about instrumentally, what's most challenging to perform live compared to the studio?
BLUE ENCOUNT – YOSHIHIDE TAKAMURA: For drums the song "Z.E.R.O."! I think that's the most difficult song for me because the groove is not very Japanese in a sense. It's kind of a lot more aligned with like Western music I suppose.
I'm not so used to it… It's still really difficult for me to authentically be able to play it. That's something I'm constantly working on.
BLUE ENCOUNT – YUUYA EGUCHI: "Polaris" because the phrases are really fast and all crammed into a short period. And then on top of that, because it's a really well known song of ours, I feel a lot of pressure to get it perfect each time when we play it.
THE NATURAL ARISTOCRAT: What was the writing process like for My Hero Academia's "Polaris"? Both lyrically and the music composition itself.
BLUE ENCOUNT – SHUNICHI TANABE: For the lyrics, I reread the first manga from the series and tried to figure out for myself what the story he's trying to convey. I then wrote the lyrics based off of that.
When we submitted the lyrics, they were pretty much immediately approved. And so they went on to officially became the lyrics for the song.
For the sound composition, it was the first time we worked with an external producer. The producer suggested ways of writing and building the song that we had never done before. It was actually a very impactful thing for us to go through.
THE NATURAL ARISTOCRAT: When you told Billboard you were working more with computers in the recording studio… Did you mean shifting more towards synthesizers and production with virtual MIDIs in software like Cubase or just working with files remotely?
BLUE ENCOUNT – SHUNICHI TANABE: At first, we started using computers a lot more with our creative process due to COVID and not being able to meet in person.
We wanted to start pre-production on our next album so we would start by sending files to each other and working on a song that way.
But as we started to do that, we were kind of exploring what you can do musically with files on a computer as well. We felt it was a unique fun opportunity and our drummer started doing a lot of research on what they call DTM in Japan, Desktop Music (MIDI Music).
Now whenever we do pre-production, we'll always start on a computer. We include things like synths that we don't actually play ourselves.
The drummer and the bassist would usually play into the song. Make it meaty and work from there. So I think it started out more as a communication thing, but now the program itself has become pretty integral to our songwriting process.
THE NATURAL ARISTOCRAT: What are your thoughts on Crunchyroll's addition of concert and music video streaming for performers like yourself and LiSA? Do you feel it will greatly expand the international audience of Anisong fans?
BLUE ENCOUNT – SHUNICHI TANABE: Doing performances overseas is just logistically very difficult obviously. It's not something that we can do on a monthly basis.
So having the opportunity for people to get to see our live performances on video is a really good thing for us. Especially, because we consider the stage to be our battleground where we show what we can do.
We're very grateful that there's now a platform where people can now experience our live performances. Even if it's only through video for now.
We hope that it will lead to more people wanting to see us in person as well.
THE NATURAL ARISTOCRAT: Do you have creative control for music videos like「Z.E.R.O.」as featured on anime Code Geass: Lelouch of the Rebellion R2?
BLUE ENCOUNT – SHUNICHI TANABE: When we work on a music video, the way it generally works is that the band members and the music video director will get together and decide what it is that they want to work towards.
Then we each throw ideas out there and try to work on something together. It's a very collaborative process whenever we work on music videos.
THE NATURAL ARISTOCRAT: When you work on a song to be used in an anime series, is it requested before hand by the studio or licensed after?
BLUE ENCOUNT – SHUNICHI TANABE: For us, it's been a new song that we've written every time after being requested to work on an anime.
The process has always been to go back to the source materials. So we go back to the manga and write a song that fits within the world of the specific anime.
THE NATURAL ARISTOCRAT: What were your favorite artists growing up that inspired you to become musicians?
BLUE ENCOUNT – SHUNICHI TANABE: For me, it was Sheryl Crow in elementary school when I was 11 years old. There was a theme song of a movie that I was watching and I was so moved by the melody…
It made me feel like I really wanted to try writing music. And I think that that was where I first had the inspiration to want to write music.
BLUE ENCOUNT – YOSHIHIDE TAKAMURA: The reason I wanted to play drums was a band called Soulive.
It was also a band that my brother really liked. Until the time I heard Soulive, I hadn't really felt a super strong connection to music or a desire to continue down that path.
And then when I discovered that band, it was like an awakening for me! "If it's this kind of music, maybe I could do this forever!" kind of thing. Soulive is the band that made me fall in love with the idea of drumming.
BLUE ENCOUNT – YUUYA EGUCHI: For me, it wasn't necessarily an artist or music, but a manga called 'Beck' that is about a band.
I was reading that and it gave me a desire to really learn to play guitar. Reading Beck made me decide to buy a guitar and learn to play. It was kind of like my first entry into the world of guitars.
THE NATURAL ARISTOCRAT: Since you brought up Beck, I'm curious if you're familiar with the anime series 'Anonymous Noise' (Fukumenkei Noizu)?
BLUE ENCOUNT – YUUYA EGUCHI: We personally haven't really seen much of it, but we know of the anime for sure!
THE NATURAL ARISTOCRAT: I noticed BLUE ENCOUNT have a lot of festivals lined up on their current live tour. I was wondering if you prefer playing in festivals or solo shows as a band?
BLUE ENCOUNT – SHUNICHI TANABE: That's a very difficult question… Both have their pros! For festivals, we really like that we can see other bands that we're friends with.
Also the fact that because it's a multi-band bill, you have audiences from different music scenes showing up. So you get to perform in front of a very diverse crowd, which we think helps us grow a lot.
I think it's an important process for us. The solo shows are where we can then show that growth to our core fans. It's a different type of energy that gets us really excited!
Both festivals and solo shows are something that we really enjoy!
THE NATURAL ARISTOCRAT: Thanks for sharing your insights today!
BLUE ENCOUNT: Thank you!
BLUE ENCOUNT on Social Media:
– Follow BLUE ENCOUNT on Twitter: @BLUEN_official.
– Follow BLUE ENCOUNT on Instagram: @blueencount_official.
– Follow BLUE ENCOUNT on YouTube: @blueencountSMEJ.
– Visit their official website for current BLUE ENCOUNT tour information.
– You can also listen and familiarize yourself with their music library over on Spotify!
BLUE ENCOUNT Band Members on Social Media
– Follow BLUE ENCOUNT lead singer and guitarist Shunichi Tanabe on Instagram and Twitter.
– Follow BLUE ENCOUNT guitarist Yuuya Eguchi on Instagram and Twitter.
– Follow BLUE ENCOUNT drummer Yoshihide Takamura on Instagram and Twitter.
– Follow BLUE ENCOUNT drummer Yuta Tsujimura on Instagram and Twitter.
Well known BLUE ENCOUNT anime songs
Looking for a place to start? Here are some BLUE ENCOUNT anime openings you might recognize already:
"Polaris" – BLUE ENCOUNT – My Hero Academia 4th season opening theme.
"Survivor" – BLUE ENCOUNT – Mobile Suit Gundam: IRON-BLOODED ORPHANS 2nd Opening Theme
"DAY×DAY" – BLUE ENCOUNT – Gintama 14th Opening Theme
"『Z.E.R.O.』"- BLUE ENCOUNT – Code Geass: Lelouch of the Rebellion R2 – 2nd Ending Theme
More Exclusive Anime Music Interviews
Be sure to check out:
– [Alexandros] Interview: Anime NYC live performance, band inspirations
– nano.RIPE Interview: "Gekka" | Ending theme song in 'The Devil Is a Part-Timer!' Season 1
– Nowlu Interview: "Stuck on you" | Ending song in 'More than a Married Couple, but Not Lovers.'
Visit the Anime News section on The Natural Aristocrat® for exclusive Music Interviews and breaking reports!